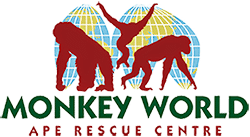 Monkey World is a purpose built animal sanctuary in Dorset where visitors are able to see primates from around the world. At this unique monkey and ape rescue centre there are many enclosures occupy the sprawling 65-acre sanctuary all for the benefit of preserving numerous endangered species.
After travelling the world and studying many different primates, Jim Cronin, a passionate activist for the protection of primates, opened Monkey World in 1987 which now provides a safe and natural environment for monkeys to live out their lives. In all, more than 250 primates can be found at the park and they are able to spend time in either their indoor or outdoor enclosures and can move freely between the two during the day giving visitors the opportunity to see them in both environments.
Don't miss the informative keeper talks that take place daily throughout the afternoon. They scatter food for the primates to draw them closer so that you can watch them eat while the keepers lots of interesting facts about the species and their individual characters too.
The park is well laid out with lots of open space around the enclosures and there are also a couple of outdoor play areas featuring climbing frames ideal for kids of all ages. picnic areas. You will also find a buggy-friendly nature trail, picnic areas, as well as a cafe and an indoor soft play area.
Featuring a Variety of Primates at Monkey World
At Monkey World, you will find Europe's only orang-utan creche and, as part of the European Endangered Species Programme, they have also successfully bred Bornean orang-utans. The park has three orang-utan groups, including Bornean and Sumatran orang-utans.
Monkey World is home to the largest chimpanzee group outside of Africa and there are four distinct chimpanzee social groups, each with their own hierarchy.
The golden cheeked gibbon is one of five types that live at the park along with Siamang, Mueller's, lar and agile.
The park is home to eleven different species of monkeys and prosimians, including capuchin monkeys, common marmosets, Geoffroy's marmosets, cotton-top tamarins, patas monkeys, ring-tailed lemurs, white-faced saki monkeys, spider monkeys, squirrel monkeys, stump-tailed macaques and woolly monkeys.