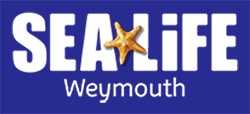 Sea Life Adventure Park in Weymouth will take you to the depths of the ocean, allowing you to discover an amazing underwater world! You'll see over 1,000 creatures such as rescued sea turtles and playful otters. On Fairy Penguin Island, you'll find the smallest penguins in the world which are in fact native to Australia and are the only colony that can be seen in Europe!
Visitors can experience the 24-hour wonder of a coral reef as it moves from night to day in our re-imagined Ocean Tunnel display in our state of the art attraction called Night & Day. You can see the beauties of the biofluorescent tropical shore, then dive underwater to see Blacktip reef sharks, Green sea turtles, and an array of tropical fish. Experience the sensation of touching a starfish in our interactive rock pool and take on new adventures at Caribbean Cove, Dorset's premier adventure park.
Weymouth Sea Life Adventure Park's Splash Zone and Pool offer hours of fun. Enjoy the water jets and take a dip in the pool to cool off. *Beware… You may get wet!
All Captains, Commodores, and Sailors – please join us! Take a magical adventure to the seven seas aboard Caribbean Cove Galleon, Dorset's largest adventure play area. Observe rays, jellyfish, and turtles swimming around Caribbean Cove from the lookout point – just watch out for sharks!